| | |
| --- | --- |
| 🩺Qualification | MBChB |
| ⌛ Duration | 60 months (Undergraduate) |
| 📬 UCAS Course Code | A100 |
Introduction
University of Aberdeen, located in Scotland, stands tall as a renowned institution with a rich history of producing exceptional medical graduates. With a commitment to excellence, innovation, and patient-centred care, the University offers a comprehensive and dynamic medical degree program that combines a rigorous academic curriculum with extensive clinical training. Supported by a faculty of distinguished medical professionals, students gain a deep understanding of medical concepts and develop the ability to translate their knowledge into competent and compassionate patient care. The University of Aberdeen's supportive and inclusive learning environment nurtures personal growth and lifelong learning. Graduates emerge as well-rounded medical professionals equipped to provide exemplary patient care, contribute to research, and adapt to the evolving healthcare landscape. Join us as we explore the excellence and distinctiveness of the University of Aberdeen's medical program, highlighting its position as a beacon of medical education and an exemplary choice for aspiring physicians.
Entry Requirement MBChB Medicine (A100)
| | |
| --- | --- |
| Typical A-level offer | Achieve / be predicted to achieve AAA in three A-Levels taken together at first sitting over a maximum of two years of study. Chemistry is required and One subject from Biology/Human Biology, Maths and Physics is required |
| Typical International Baccalaureate offer | 36 points overall (including core), with 3 appropriate subjects at HL each to achieve grade 6 and 3 appropriate subjects at SL with an average of 6. |
| International Requirements | Click here |
| Number of places for International Students | 19 |
| Examination | UCAT |
| How to apply | Apply through UCAS. |
Facilities and Hospital affiliation
The University of Aberdeen offers an exceptional array of medical facilities and teaching hospitals, providing students with invaluable practical experience. The Aberdeen Royal Infirmary serves as the largest teaching hospital in the region, exposing students to a wide range of medical specialties and cutting-edge technologies. The Royal Aberdeen Children's Hospital focuses on paediatric care, equipping students with a deep understanding of child health. The Foresterhill Health Campus, with its multiple hospitals and research institutes, offers an immersive learning environment and opportunities for ground breaking medical research. Collaborations with community-based healthcare settings and a focus on interprofessional collaboration further enrich the students' clinical education. The integration of theory and practice, through clinical rotations and placements, enables students to develop essential skills and empathy. With a supportive faculty and a commitment to comprehensive clinical education, the University of Aberdeen prepares graduates to excel as compassionate and competent healthcare professionals, ready to make a meaningful impact in patient care and medical research.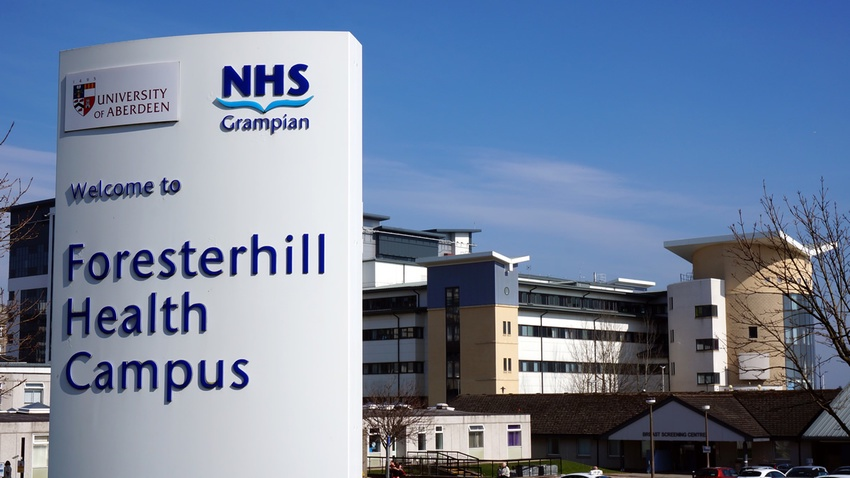 Curriculum
Year 1 Curriculum
Foundations of Medicine
Principles of normal function of the human body, principles of disease development and management, and principles of General Practice
Anatomy
Introduction to the study of the structure of the human body, including anatomical terminology, commencing with bones and joints, muscles and nerves, and the back and spinal cord
Clinical Skills
Introduction to practical and communication skills that form the foundations of medical practice, including dealing with medical emergencies (covered in the first term and revisited throughout the program)
Medicine 1 (Term 2)
Focuses on the Respiratory System and the Cardiovascular System, including the fundamental structure and function of each system, clinical application of knowledge to disease processes. Anatomy 1 and Clinical Skills 1 continue with a focus on these systems. First clinical attachments are experienced in term 2.
Clinical Cases
A series of clinical cases introduced throughout the year to encourage integration of pre-clinical and clinical material, and material taught in other sections of the MBChB program. Consists of clinical scenarios with related questions.
GP Enhanced Program
Provides innovative experiences and teaching in General Practice and the community. Aims to develop understanding of generalism and the practice of a generalist. Offers additional learning activities throughout Years 1-5.
Student Selected Component
Towards the end of term 2, students engage in the first Student Selected Component, allowing them to work in small groups and study a particular topic in depth.
Year 2 Curriculum
Term 1

Medicine 2 Course

Alimentary system
Head/Neck/Dermatology
Nervous system

Anatomy and Clinical Skills
Opportunities to practice clinical skills within each system
Resuscitation practice (revisited and extended)
Teaching in General Practice (building on Year 1 material)

Start of Term 2

Second Student Selected Component
Opportunity to choose a particular topic for in-depth study

Medicine 2 Course (after Student Selected Component)

Diabetes/Endocrine system
Urinary system

Late Year 2

Advanced Infection
Musculoskeletal system
Medical Ethics & Law
Year 3 Curriculum
Term 1

Reproductive System
6-week Medical Humanities course

Opportunity to select a particular topic for in-depth study

Specialties and Professional Practice teaching

Specialties include: Medicine of Old Age, Anaesthetics, Clinical Genetics, and Clinical Pharmacology

Continuation of General Practice teaching

Term 2

Psychiatry
Haematology/Immunology
Paediatrics teaching

Year 3 Highlights

Wide range of bi-weekly clinical attachments
Ability to perform a complete head-to-toe examination of patients

Final Term (Year 3)

Student Selected Component (SSC) exploring wider public health aspects – Clinical Effectiveness
Start of nine five-week clinical rotations throughout Year 4
Year 4 Curriculum
The Year 4 curriculum is a clinically-based, person-centred learning experience that builds on the breadth and depth of specialty knowledge from the earlier years' systems-based teaching. Students develop their clinical reasoning, diagnostic and management skills for both individual patients and patient populations of all ages, with medical conditions affecting any of the body systems.
Students undertake seven six-week clinical blocks during which experience will be gained in many different clinical areas and disciplines including:
Acute medicine and critical care
Surgery and critical care
Reproductive and child health
General Practice
Long term conditions and integrated care
Mental Health
Diagnostics and student preference attachments
Year 5 Curriculum
Final year represents a deliberate change in approach from the systems-based learning of Years 1 to 4, to experience professional practice as a member of the clinical team dealing with the whole patient.
The year comprises five courses in all. There are three 8-week clinical attachments in the broad areas of Medicine, Surgery and Community Health (General Practice or Psychiatry). As far as possible, students have a choice of specialty within these blocks. Each of these courses covers generic core skills, common to all areas of medical practice, in which students are required to become proficient.
At least one of the clinical courses will be undertaken in Inverness or Elgin. However, much of the time is spent on areas of particular interest to the individual.
Year 5 is very much an apprentice year when students become much more actively involved in the role they will be expected to perform as Foundation Doctors.
Of the remaining two courses in Year 5, one is a project-based Elective on a medical topic. This is an 8-week block which students arrange by themselves, with help from a local supervisor and a network of Electives Advisers.
The other course is the Professional Practice Block which is split into 2 sections, one at the start of the year and the other at the end. This course is designed to facilitate the transition from student to Foundation Doctor and covers practical issues such as dealing with death and dying, ethics and the law, careers, stress in the workplace, time management etc.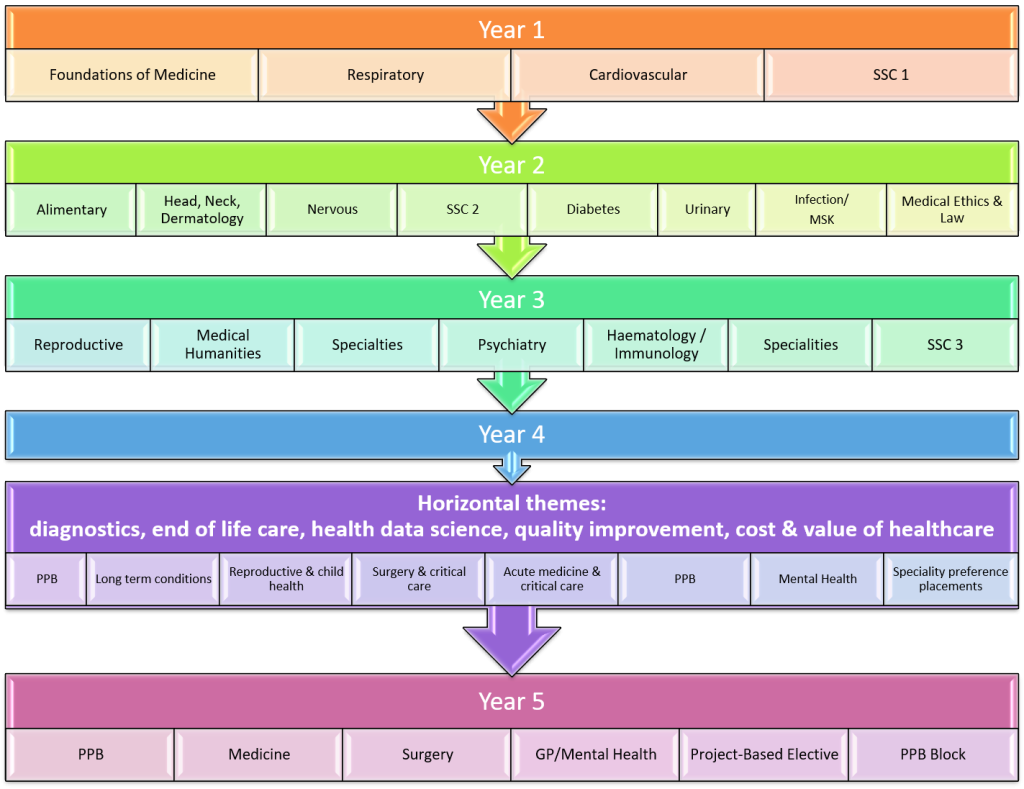 Tuition fees for Home and International students
Tuition Fees for Home and International Students
Tuition fees for Home and International students at the University of Aberdeen vary depending on the program of study. Here is a breakdown of the pricing and potential funding options for international students:
Home Students
Undergraduate medical degrees: £1,820 per year
Rest of the UK
Undergraduate medical degrees: £9,250 per year
International Students
Undergraduate medical degrees: £50,100 pear year. (the confirmed rate will include the mandatory national levy to cover the cost of tuition in the NHS. Further details can be found here)
Funding Options
To help alleviate the financial burden of tuition fees, the University of Aberdeen offers a range of scholarships and bursaries specifically designed to support international students. These scholarships are often awarded based on academic merit, leadership potential, or other criteria.
In addition to university-specific funding opportunities, international students can explore external scholarships, grants, and sponsorship programs offered by governments, organizations, and foundations in their home countries or internationally. It is advisable to research and apply for such funding opportunities well in advance of the intended start date to increase the chances of securing financial support.
Furthermore, some students may opt for part-time employment to help cover living expenses. The University of Aberdeen's Careers Service can provide guidance and support in finding suitable part-time job opportunities both on and off-campus.
It is essential for international students to carefully plan their finances and consider all available funding options to ensure they can meet their tuition fees and living expenses throughout their time at the University of Aberdeen. For detailed information on tuition fees, scholarships, and funding opportunities specific to your circumstances, please consult the university's official website and reach out to the International Admissions Office.
Scholarships and Bursaries for International Students
International students pursuing a medical degree at the University of Aberdeen have the opportunity to apply for various scholarships and bursaries. It is important to note that the availability and details of scholarships and bursaries may change on a yearly basis. Therefore, it is crucial for applicants to regularly check the university's official website for the most up-to-date information. Here are some of the scholarships and bursaries that international students can explore:
University of Aberdeen International Undergraduate Scholarship: This scholarship is available for international undergraduate students, including those studying medicine. It offers a reduction in tuition fees for the duration of the program.
Chevening Scholarships: The Chevening Scholarship is a prestigious award offered by the UK government to outstanding individuals from around the world. It provides full financial support, including tuition fees, living expenses, and airfare.
Commonwealth Scholarships: Commonwealth Scholarships are funded by the UK government and are available to students from Commonwealth countries. These scholarships cover tuition fees, living expenses, and other associated costs.
External Scholarships: International students can also explore scholarships offered by organizations, foundations, and governments in their home countries. These scholarships may vary in eligibility criteria and coverage, so it is important to research and apply for relevant opportunities.
University-Specific Scholarships: The University of Aberdeen may offer specific scholarships for international students pursuing a medical degree. These scholarships may be based on academic merit, leadership potential, or other criteria.
It is crucial for applicants to carefully review the eligibility requirements, application deadlines, and any additional documentation needed for each scholarship. As scholarship and bursary opportunities can change from year to year, it is recommended to visit the university's official website and contact the International Admissions Office for the most up-to-date information on available scholarships and bursaries for international students studying medicine at the University of Aberdeen. Click here to access their website where you'll have the complete list of all funding options available.
Location and Campus
Situated in the stunning city of Aberdeen, the University of Aberdeen offers a captivating blend of historical charm and modern vibrancy. Nestled in the northeast of Scotland, Aberdeen is often referred to as the "Granite City" due to the widespread use of granite in its architecture, giving the city a unique and enchanting aesthetic.
The university's main campus is located in the heart of Old Aberdeen, a neighborhood steeped in history and brimming with character. As you stroll through the cobbled streets, you'll be surrounded by a rich tapestry of medieval buildings, quaint cafes, and lush green spaces. The atmospheric campus creates an inspiring environment for students, with its mix of centuries-old structures and contemporary facilities.
One of the standout features of the campus is King's College, a magnificent Gothic masterpiece that dates back to the 15th century. This iconic landmark serves as a constant reminder of the university's long and prestigious history. Within its hallowed halls, you'll find a treasure trove of knowledge, including the awe-inspiring Sir Duncan Rice Library, named after the university's former Principal.
The university's commitment to providing state-of-the-art facilities is evident throughout the campus. Modern buildings seamlessly blend with the historic architecture, offering students a conducive learning environment equipped with cutting-edge technology and resources. From well-equipped laboratories and lecture halls to modern study spaces and research centers, the campus provides everything needed to support academic pursuits.
Beyond the confines of the main campus, the university boasts additional facilities and centers that cater to the diverse needs of its students. The Foresterhill Health Campus, located just a short distance from the main campus, houses the School of Medicine and Dentistry, as well as the Institute of Medical Sciences. This hub of medical excellence provides students with access to world-class facilities and opportunities for clinical placements and research collaborations.
The University of Aberdeen's commitment to fostering a vibrant and inclusive community extends beyond academia. The city itself offers a wealth of cultural, recreational, and social opportunities. From exploring the picturesque Aberdeen Beach and its golden sands to immersing yourself in the rich arts scene at the city's theaters, galleries, and music venues, there is something for everyone.
As a student at the University of Aberdeen, you'll have the chance to engage in a host of extracurricular activities and societies that cater to a wide range of interests. Whether you're passionate about sports, music, volunteering, or entrepreneurship, there are numerous opportunities to pursue your passions, make lifelong friendships, and enhance your overall university experience.
Moreover, Aberdeen's ideal location provides easy access to breathtaking landscapes and outdoor adventures. The nearby Scottish Highlands boast stunning mountains, tranquil lochs, and picturesque trails, offering endless opportunities for exploration and adventure. You can immerse yourself in the beauty of nature, embark on hiking expeditions, or simply take a break from studies to rejuvenate your mind and spirit.
In summary, the University of Aberdeen's location and campus provide a captivating backdrop for academic pursuits and personal growth. The fusion of historical charm and modern amenities creates an inspiring environment where tradition and innovation coexist harmoniously. With a wealth of cultural, recreational, and natural wonders at your fingertips, your journey at the University of Aberdeen promises to be a truly enriching and unforgettable experience.
Weather
Aberdeen, located in the northeast of Scotland, experiences a temperate maritime climate characterized by its unique and ever-changing weather patterns throughout the year. From mild summers to crisp winters, each season offers its own charm, providing an exciting backdrop for various activities and adventures.
Spring (March to May):
As the chilly grip of winter begins to fade away, spring emerges with a sense of rejuvenation and new beginnings. Average temperatures range from 5°C (41°F) to 13°C (55°F). Springtime in Aberdeen showcases blooming flowers, budding trees, and longer daylight hours, creating a pleasant and inviting atmosphere. It's the perfect time to explore the beautiful parks and gardens that dot the city, such as Duthie Park and Johnston Gardens. Take a leisurely stroll along the River Dee or enjoy a picnic in Seaton Park while basking in the gentle spring sunshine.
Summer (June to August):
Summer in Aberdeen brings mild and comfortable temperatures, ranging from 10°C (50°F) to 18°C (64°F). With longer days and shorter nights, this is the season to fully embrace outdoor activities. Aberdeen's stunning coastline beckons with its golden sandy beaches, such as Balmedie Beach and Aberdeen Beach. Enjoy a refreshing dip in the North Sea, indulge in beach volleyball, or simply relax and soak up the sun. If you're feeling adventurous, you can even try your hand at water sports like paddleboarding or kayaking. Summer also marks the arrival of various festivals, including the Aberdeen International Youth Festival, offering a vibrant cultural experience.
Autumn (September to November):
Autumn paints Aberdeen in a tapestry of vibrant colors as the leaves turn shades of red, orange, and gold. Average temperatures range from 7°C (45°F) to 15°C (59°F). It's a season of crisp air and changing landscapes, providing a picturesque setting for nature enthusiasts. Take a scenic drive along the North East 250 route and witness the breathtaking autumnal scenery of Aberdeenshire's countryside. Enjoy long walks through the enchanting forests of Drum Castle or explore the tranquil setting of the Royal Deeside. For those seeking a touch of adventure, autumn is the ideal time to embark on hiking expeditions in the nearby Cairngorms National Park.
Winter (December to February):
Winter in Aberdeen brings cooler temperatures, ranging from 1°C (34°F) to 8°C (46°F). While the weather can be chilly, the city is known for its festive spirit and cozy atmosphere. Embrace the magic of winter by visiting the Aberdeen Christmas Village, where you can browse through stalls, sip hot chocolate, and enjoy thrilling fairground rides. Take part in traditional Scottish celebrations, such as Hogmanay, and ring in the New Year with fireworks and festivities. Winter also offers the opportunity to embrace the surrounding snow-covered landscapes. Head to the Cairngorms for skiing, snowboarding, or winter hiking, and witness the awe-inspiring beauty of the Scottish Highlands blanketed in snow.
Student Accomodation
When it comes to finding suitable accommodation as a student in Aberdeen, you'll discover a wide range of options designed to cater to your needs and preferences. Aberdeen is known for providing excellent accommodation choices, making it a city that truly values the well-being and comfort of its students. Whether you choose to live on campus or off campus, you can expect a supportive and vibrant living environment that enhances your academic journey.
Living on Campus: The Pros and Cons
Pros:
Convenience: Living on campus means you're just a short walk away from your classes, libraries, and other campus facilities. This convenience saves you valuable time and energy that can be dedicated to studying or engaging in extracurricular activities.
Community Spirit: On-campus accommodation fosters a strong sense of community among students. You'll have ample opportunities to make new friends, collaborate on academic projects, and participate in various social events and activities.
Support Services: Most universities offer dedicated support services to on-campus residents, including 24/7 security, maintenance assistance, and on-site staff who can provide guidance and support whenever needed.
Inclusive Facilities: Living on campus often grants you access to a range of inclusive facilities, such as sports complexes, study spaces, common rooms, and laundry facilities.
Cons:
Limited Independence: Living on campus may come with some restrictions and rules set by the university or accommodation provider. These rules are in place to ensure a harmonious living environment, but they may limit certain freedoms and independence.
Availability: On-campus accommodation can be in high demand, and securing a spot may be competitive. It's advisable to apply for accommodation well in advance to increase your chances of obtaining your preferred choice.
Living off Campus: The Pros and Cons
Pros:
Increased Independence: Renting a private accommodation off campus provides you with greater freedom and autonomy in managing your own space and daily routine.
Wider Choice: Off-campus living opens up a wider range of housing options, from shared flats and private rentals to homestays. This variety allows you to select accommodation that aligns with your specific preferences and budget.
Integration with the Local Community: Living off campus offers a chance to immerse yourself in the local community and experience the everyday life of Aberdeen residents. You can explore the city's cultural events, visit local markets, and build connections outside of the university environment.
Cons:
Commute: Depending on the location of your off-campus accommodation, you may need to factor in commute times to reach the university. Consider the availability of public transportation or the proximity to campus before making a decision.
Responsibilities: Renting a private accommodation comes with additional responsibilities, such as managing bills, maintenance, and potentially finding flatmates to share costs. It's important to budget wisely and plan ahead to ensure a smooth living experience.
Limited University Support: Unlike on-campus accommodations, you may have limited access to university support services when living off campus. However, most universities still provide assistance and guidance to off-campus students through their student support offices.
Advice for Choosing Accommodation
Start Early: Begin your search for accommodation as early as possible, especially if you're looking for on-campus options. Early planning increases your chances of securing your preferred choice.
Consider Your Preferences: Think about your living preferences, including location, budget, and desired amenities. Determine whether you prioritize the convenience of living on campus or the flexibility of off-campus living.
Budget Wisely: Create a realistic budget that covers not only rent but also additional expenses such as utilities, internet, groceries,
Conclusion
Choosing the right university is a critical decision for aspiring medical students, and the University of Aberdeen stands out as an exceptional choice. With its rich history, esteemed reputation, and comprehensive medical programs, this university offers a transformative educational experience that prepares students for a successful medical career.
From the rigorous curriculum that combines theoretical knowledge with practical clinical skills to the state-of-the-art facilities and cutting-edge research opportunities, the University of Aberdeen equips students with the tools and expertise necessary to excel in the medical field. The curriculum's focus on person-centered care, clinical reasoning, and holistic approaches ensures that graduates are well-rounded and compassionate healthcare professionals.
Aberdeen's commitment to supporting international students is evident through its diverse and inclusive community. The university provides numerous scholarships and funding options, recognizing the importance of accessibility and ensuring that financial considerations do not hinder talented students from pursuing their dreams.
Beyond academics, Aberdeen offers a vibrant student life with various extracurricular activities, societies, and clubs. The city itself, with its rich cultural heritage and stunning natural landscapes, provides a perfect backdrop for personal growth, exploration, and relaxation.
Whether you choose to live on campus and immerse yourself in a close-knit community or opt for off-campus accommodation, Aberdeen offers a supportive and inspiring environment. The city's warm and welcoming atmosphere, coupled with the university's commitment to student well-being, ensures that your time here will be unforgettable.
As you embark on your journey to become a medical professional, the University of Aberdeen stands ready to nurture your talents, ignite your passion for medicine, and guide you toward a future filled with endless possibilities. Take the leap and choose Aberdeen as your first choice. Your path to excellence starts here.
Remember, it is essential to regularly check the university's official website for the most up-to-date information on programs, admissions, scholarships, and accommodations. The university's dedicated staff and admissions office are always available to answer any questions and provide the guidance you need.
Embark on this remarkable educational journey at the University of Aberdeen and let your dreams of becoming a compassionate and skilled medical practitioner come to life.