Ari Horesh University of Pavia, Italy
6th of April, 2023
Picture this: You're strolling through the ancient, cobblestone streets of a picturesque Italian city, absorbing its rich history and culture, while simultaneously pursuing your dream of becoming a doctor. Sounds too good to be true? Well, at the University of Pavia, this dream can become a reality. As the pioneer of offering the first English-taught medical program in Italy since 2011, the University of Pavia has established itself as a prestigious institution for medical education. In this article, we will explore the unique features of Pavia as a city, the university's groundbreaking approach to medical education, and the entry requirements that could open the door to your international medical career.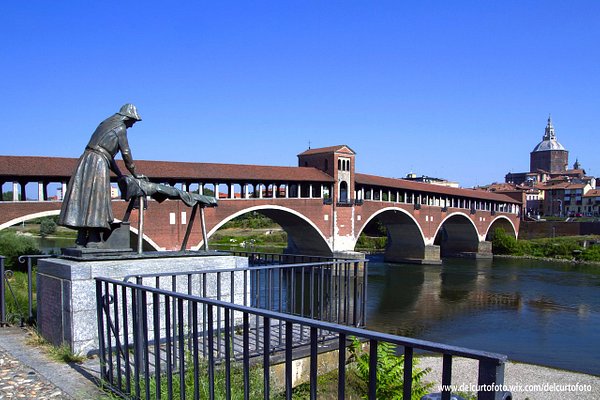 Content Quick Navigation
Pavia: A City Steeped in History and Culture
Nestled in the heart of Lombardy, Pavia is a vibrant city bursting with charm, history, and a lively student atmosphere. This enchanting city, dating back to the Roman era, has a rich tapestry of cultural influences, visible in its stunning architecture, quaint cafes, and bustling piazzas. The romantic Ticino River flows gracefully through the city, providing idyllic views and an irresistible ambiance for an unforgettable student experience.
Not only does Pavia offer a beautiful backdrop for your studies, but it also boasts a strong academic tradition. As one of the oldest universities in Europe, the University of Pavia has produced a plethora of esteemed alumni, including Alessandro Volta, the inventor of the electrical battery, and Lazzaro Spallanzani, a pioneer in experimental physiology.
A Trailblazer in Medical Education: Pavia's First English-Taught Medicine Course
In 2011, the University of Pavia made waves in the world of medical education by launching the first-ever English-taught medical program in Italy. This innovative move was driven by a desire to attract the brightest minds from across the globe and to prepare graduates for the challenges of modern healthcare. Over the past decade, the University of Pavia has continued to refine and expand this program, garnering international acclaim and attracting students from diverse backgrounds.
As a testament to the success of this initiative, many graduates have gone on to make their mark in the medical field, practicing as doctors throughout Europe and in their home countries. The University of Pavia takes pride in its global network of alumni, who embody the institution's commitment to excellence, innovation, and compassion.
In conclusion, the University of Pavia offers prospective medical students an unparalleled opportunity to study in a historic and culturally rich city while pursuing a world-class medical education. Keep reading to learn about the entry requirements, application process, and more, as we guide you on your journey to become a part of the University of Pavia's legacy of medical excellence.
Deadlines and Application Process for the English-Taught Medical Course in Pavia


Embarking on your journey to study medicine at the University of Pavia requires careful planning and attention to detail. In this section, we will guide you through the application process, key deadlines, and important steps for both European and non-European applicants. Let's dive in!
Non-European Applicants: Pre-Enrollment and Visa Process
Pre-Enrollment (April to June): If you are a non-European applicant, the first step is to go through the pre-enrollment process. This should be done between April and June, and it involves submitting your application to the University of Pavia. To do this, visit https://apply.unipv.eu/ and look for the course code LM-41. Completing this step will provide you with a document from the university confirming your application, which will be crucial in facilitating the visa process in your home country.
Register for the IMAT (July): Once you have completed the pre-enrollment process, you will need to create an account on the universitaly.it website in July. This is where you will register for the International Medical Admissions Test (IMAT), which is the mandatory admission exam for the medical course at the University of Pavia. Make sure to pay the required fees for the IMAT as well.
English Proficiency and Other Requirements
It's important to note that the University of Pavia does not have a specific English proficiency requirement for its medical course. This means that you do not need to submit results from exams like IELTS or TOEFL. The only requirement for admission is a satisfactory score on the IMAT.
Academic Calendar and Start of the School Year
The first academic year for the University of Pavia's medical course typically commences on the 14th of October. Make sure to plan your travel and accommodation arrangements accordingly to ensure a smooth transition into your new life in Pavia.
In summary, applying to the University of Pavia's English-taught medical course involves a few crucial steps and deadlines, particularly for non-European applicants. By adhering to these guidelines and staying organized throughout the process, you will be well on your way to joining the ranks of Pavia's esteemed medical alumni. Good luck!
Understanding the IMAT Exam: Your Key to Success in Pavia's Medical Course
The International Medical Admissions Test (IMAT) is a crucial component of the application process for the University of Pavia's medical course. This standardized exam assesses your knowledge and aptitude in various subjects, ensuring that you are well-equipped to excel in your medical studies. In this section, we will delve into the structure and content of the IMAT exam, as well as resources to help you prepare for success.
IMAT Exam 2023: Structure and Content
The 2023 IMAT exam is designed to evaluate your understanding and critical thinking skills in a range of subjects. It consists of 60 multiple-choice questions, which you must complete within 100 minutes. The exam covers the following topics:
Logic: Your ability to reason and solve problems will be tested through questions that focus on critical thinking, problem-solving, and data analysis.
Biology: This section assesses your knowledge of key biological concepts and principles, including cell structure, genetics, and human physiology.
Chemistry: Expect questions on fundamental chemistry concepts, such as atomic structure, chemical reactions, and periodic properties.
Mathematics: The math portion of the exam will test your understanding of basic mathematical principles, including algebra, geometry, and trigonometry.
Physics: In this section, you'll encounter questions related to classical mechanics, electricity, and magnetism, as well as other essential physics concepts.
Preparing for the IMAT Exam: Resources and Tips
To ensure you are well-prepared for the IMAT exam, visit EnterMedSchool.com, which offers a wealth of study materials, preparation guides, and articles to help you tackle the exam successfully. By utilizing these resources, you can build a strong foundation in each subject area and develop effective test-taking strategies.
Pavia's Presemester: Strengthening Your Foundation in Math, Physics, and Chemistry
If the University of Pavia is your first choice for medical studies, it's important to note that their program includes a presemester course covering math, physics, and chemistry in greater detail than the IMAT exam. As such, it's recommended that you invest additional time in learning these subjects in depth to ensure a smooth transition into Pavia's rigorous medical curriculum.
In conclusion, the IMAT exam is a critical step in the application process for Pavia's medical course. By understanding the exam's structure and content, utilizing valuable resources like EnterMedSchool.com, and preparing for Pavia's presemester, you will be well-positioned to excel in the IMAT exam and secure your place at this esteemed institution.
Pavia's Competitiveness: Striking the Right Balance
When considering a medical program, it's essential to evaluate the competitiveness of the university in question. The University of Pavia offers a unique blend of prestige and accessibility that sets it apart from other institutions. In this section, we will discuss how Pavia compares to other universities in terms of competitiveness, based on the EnterMedSchool difficulty scale.
Balancing Prestige and Accessibility: Pavia's Competitiveness Rating
On the EnterMedSchool difficulty scale, the University of Pavia is rated a 7 out of 10. This rating indicates that while Pavia is not as competitive as universities such as Milan International Medical School (IMS) and Rome La Sapienza, it still maintains a higher-than-average level of competitiveness compared to other institutions. Additionally, Pavia's program is generally considered to be more competitive than those offered by universities in southern Italy.
One key benefit of Pavia's medical program is the number of seats available to non-EU candidates. Each year, the university offers 40 seats to non-EU applicants, which provides an excellent opportunity for students from around the globe to pursue their medical studies in Italy. This allocation of seats helps to ensure that the required IMAT scores for admission remain relatively stable from year to year, even as the number of applicants continues to grow.
In summary, the University of Pavia strikes an appealing balance between competitiveness and accessibility for prospective medical students. With a strong reputation, a rich academic environment, and ample opportunities for non-EU candidates, Pavia's medical program offers an outstanding choice for students seeking a world-class medical education.
In Conclusion: Embarking on Your Italian Medical Adventure
As we've journeyed through the picturesque streets of Pavia, explored the innovative English-taught medical program, and delved into the intricacies of application deadlines and the IMAT exam, it's clear that the University of Pavia presents a remarkable opportunity for aspiring medical professionals. With its unique blend of prestige and accessibility, Pavia offers a one-of-a-kind experience for students seeking to immerse themselves in Italy's rich culture and history while pursuing their medical dreams.
So, are you ready to embark on your Italian medical adventure? We invite you to continue exploring and comparing medical programs across Italy and beyond on EnterMedSchool.com. With our comprehensive resources, detailed guides, and engaging articles, you can confidently navigate the complex world of medical education and take the first steps toward a fulfilling and successful career in medicine.
As you set your sights on the University of Pavia, remember that the cobblestone streets, ancient architecture, and vibrant student life are waiting to welcome you into a new chapter of your life. With the knowledge and skills gained from Pavia's esteemed medical program, you'll be well-equipped to make a difference in the world of healthcare and leave a lasting impact on the lives of patients across the globe.
Arrivederci, future doctors, and may your journey through medical education be as captivating and enriching as the enchanting city of Pavia itself!