The Ultimate Newbie Guide for Your Medical Studies in Italy!
Internationally, there is an underlying community of people who fantasize about basking in the most superior stages of their lives: becoming a Doctor. For many of these idealists, this dream becomes true in the simplest of ways- however, there remains a body of eager pupils with a drive to learn who simply cannot afford to achieve that dream without weights on their shoulders. These weights are the disadvantages that come along with studying abroad; Student Debt, Costs of living, Tuition, and the gruesome Admission Qualifications for most Medical Schools.
So then what if I told you that there was a way for your ambitions to be validated? For you to live in a picturesque country- with culture and tradition in every corner? For you to study in some of the best Universities with low costs of life and moderate tuition? Studying in English and then graduating with an internationally recognized degree even! All these hopes you have are viable in Italy, and we're here to guide you through understanding the process of achieving them.
So, why Italy?
The advantages are obvious:
An Internationally Recognized degree in English–  These Italian Medical Schools are well respected globally and have several hundred years of experience. These are some of the most authentic and time-honored Universities in the world and are comfortably ranked on several websites.
 Italian medical institutions (like other European universities) provide a 6-year undergraduate MD curriculum, but what precisely does this imply? Medical school in Italy lasts an average of six years and is divided into preclinical and clinical years, with a three-to-three year split (usually). Because it is an MD degree, students are required to devote at least one of the twelve semesters to writing a thesis that they must submit and defend after the sixth year to graduate.
Programs in instructed in English– Non parli Italiano? Non è un problema! There are around 4 Private Universities and 13 Public Universities available for studies in the English language. Most aspects such as examinations, lectures and study materials are in English. Italian skills will be needed towards the beginning of your clinical (3rd) years for interaction with patients- however, worry not, most universities offer Italian Language Classes through their respective learning centres for free or low costs.
Low Tuition Fees– Average tuition fees for Public Universities depend on different aspects. Some Universities calculate tuition fees through a document "ISEE", which measures the prospective student's financial and economic state; the fees usually range from about 156-5,000 euros a year for foreign students. Other universities use a flat rate system, where students are divided into brackets according to their country of origin. Still, most of these universities' fees do not exceed 5,000 euros per annum. For Private Universities, tuition is approximately 3,000- 35,000 euros.
Low costs of living– Compared to most countries such as the UK and US, Italy is ridiculously cheaper, living expenses in Italy range from 700 to 1,000 euros monthly. However, expenses and accommodation mainly depend on the cities inhabited. For example, larger cities such as Rome and Milan will be more expensive compared to smaller cities such as Pavia and Turin.
Culture and Charm– Italy infamously boasts about 51 indescribable UNESCO World Heritage Sites, along with the diversity of natural landscapes, ranging from snowy mountains to crystal clear seas and endless hills covered in vineyards. Not only that but cities and countries are incredibly well connected, with organized transportation systems you could explore new journeys every weekend, just a train ride away. Just imagine that! You'll be well-fed and constantly on the search for the best meals and drinks every night.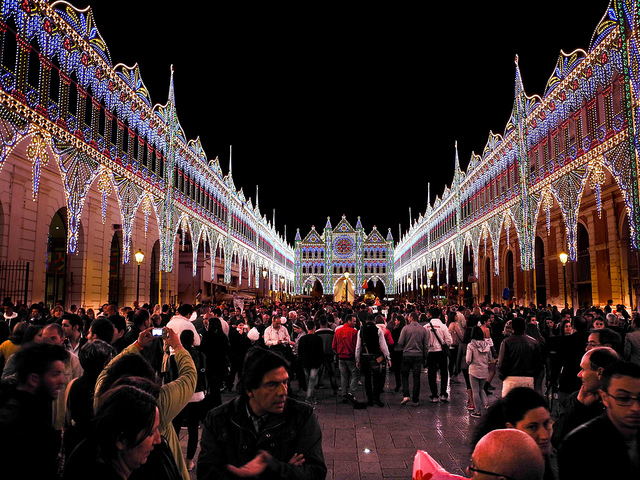 Can you envision the life you could lead here?
Simpler Admission Requirments– Italy is unique to its admission system in that it does not require any interviews, minimum GPAs, letters of recommendation, or a resume. Instead, universities rely on a single Admission Test called the IMAT (International Medical Admissions Test). I urge you to read more about the relevant exam, through our articles. To understand how the exam works, please watch this comprehensive video, and to elaborate on certain deadlines and timelines read this. The most recent syllabus is also linked here. It is fair to mention that in previous years the pandemic affected the possibility of the exams being held, but judging by how the Italian Government dealt with said issues, it is safe to say there is not much to worry about in regards to the IMAT 2022.
It is now crucial that I list and show these Universities, to explain any further steps. The Universities include:
Private :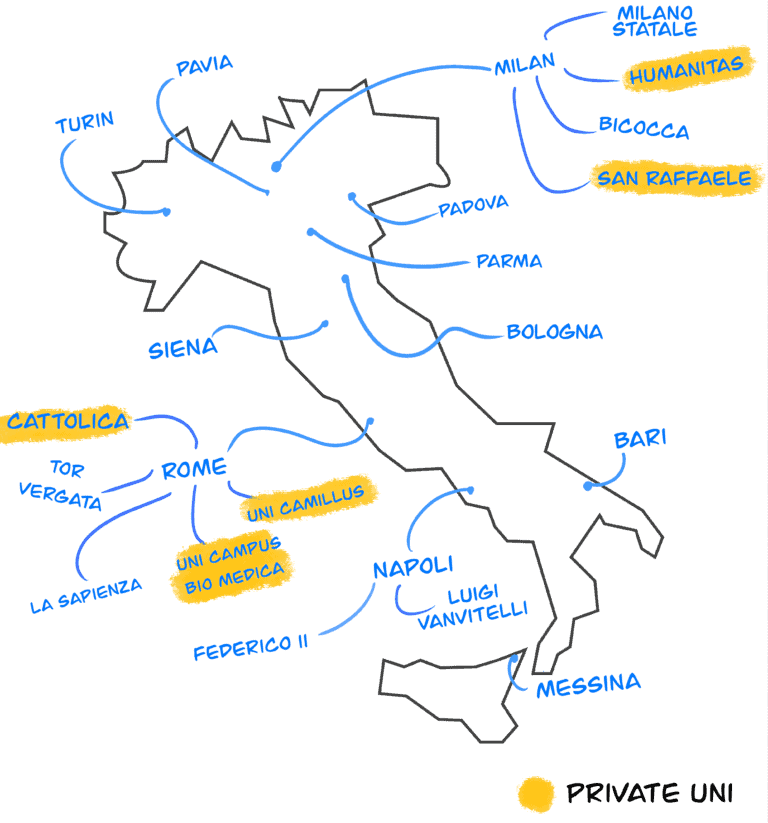 Public:
University of Napoli Vanvitelli
University of Napoli Federico II
University of Siena (Dentistry)
To select candidates for Public Universities, students are ranked by their scores accordingly- with each university having a minimum acceptable grade. It also depends on the number of seats the respective university reserves for students, EU and Non-EU.
Let's take the 2021 examination season, for example, looking at the Available Places 2021 and Average Entry Score.
Please remember that whichever University you choose may have its advantages and disadvantages. However, we urge you not to look into Rankings as there is no such thing as "the best". Instead, it is crucial to focus on aspects such as city life- you will be studying in the city for 6 consecutive years, so you better make sure whichever University you choose is located in a city where you see yourself growing, thriving and enjoying.
I also recommend you subscribe to our alert system, as we're working on an intensive article which covers all the questions you have regarding these Universities, and what they truly have to offer in all ranges, as well as looking over newer Universities such as Parma with exclusive insight from students themselves.
In Conclusion
I'm sure that as I'm concluding this article, you've fallen in love with all that Italy has to offer you. This is your journey to glory, a story where you will have no regrets- all you need is our guidance, and together we will get there. The last piece of advice I have to offer you is to look through our website well and familiarise yourself with all these processes, using the resources we have to offer.
If you're sure that Italy is the place for you, and would like to begin looking into study material and help- I advise you to look at our Ultimate 2022 Guide, which is great for beginners alongside our recently updated Planner. If you've familiarised yourself enough and need a push to score appropriately, here's our exclusive Summer 2022 Classes, which have limited seats left. Reserve your seat here before registrations end!
Please comment on any questions you have, as we would be happy to clarify any confusion or fears.